Philosophy
Sun Valley Pre-School Kindergarten aims to provide a warm caring and homely atmosphere where children feel welcome and secure. We aim to provide an environment that supports children as resourceful learners who are capable of constructing their own knowledge of the world around them.
We aim to foster relationships that support children to feel a sense of belonging, to see themselves as constructive contributors to the communities and to see themselves as valued, unique and powerful.
Our flexible curriculum provides a variety of resources, materials and methods that empowers children to make choices, promote peer relationships and to provoke thoughts and imagination. Through implementation of the Early Years Learning Framework we will build on children's interests, knowledge, experience and backgrounds as individuals within Sun Valley Pre-School Kindergarten. Sun Valley Pre-School Kindergarten respects parents as each child's first teacher and involves parents in every aspect of the curriculum. Therefore, we work in partnership and aim to develop a sense of trust with parents. Educators, when planning in collaboration with parents, take into consideration children's individual developmental stages and uniqueness.
Practices at Sun Valley Pre-School Kindergarten are based upon the following learning outcomes:
Children learn through experiences of touching, moving, listening, seeing and hearing. Play is the learning process that enables children to learn through concrete "hands on" experiences such as doing, experimenting, predicting and achieving. Experiences that are facilitated by children and their interests. Sun Valley Pre-School Kindergarten provides an environment that supports and responds to children's actions and language.
Children are valued individuals within the context of their family and their communities. At Sun Valley Pre-School Kindergarten, children have endless ways and opportunities to express themselves. Sun Valley Pre-School Kindergarten creates opportunities in the environment that supports and guides children to establish relationships with people, our communities and educators. Educators are familiar to both parents and children. The open channels of communication enhance the bond between Sun Valley Pre-School Kindergarten and their families, which in turn broadens Educators knowledge about each child and gives each child a sense of belonging. Positive self esteem, high self worth and a sense of identity assists a child to have life long strong emotional intelligence that gives children the ability to cope with life challenges and be active and productive in their communities.
Children have individual different needs, interests and developmental levels. Home and cultural backgrounds are an integral part of children's learning. Each child is an individual with unique interests, strengths and abilities. Through Sun Valley Pre-School Kindergarten's flexible curriculum each child will achieve milestones in their learning. Children feel a sense of belonging as Educators at Sun Valley Pre-School Kindergarten embrace all children, including children with additional needs, through inclusiveness, stability, security and ensure that all choices that are provided are realistic.
Children's rights are respected, protected and fulfilled. Children have the right to equality and respect. They also respect the abilities and feelings of their peers. All children at Sun Valley Pre-School Kindergarten are given equal opportunities to explore and play within their environment regardless of age, gender, culture or ability. Children's opinions are heard in decision making and children feel free to express their thoughts. Continuity of Staff provides children stability and a safe, happy environment in which they thrive.
Testimonials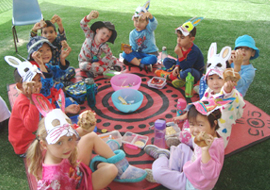 My child is excited each morning he attends Sun Valley Preschool. He is absorbed in his activities when I arrive to pick him up and he smiles and skips about when he describes his day.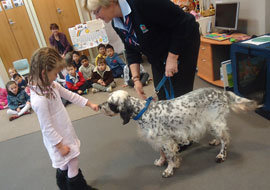 I love that my child comes home everyday with something new and exciting to tell us. She really enjoys her time at Sun Valley.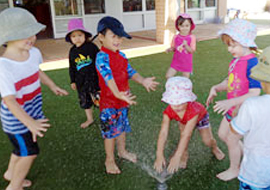 My favourite aspect is that the use of the beautiful outdoor play are is mandatory everyday the weather permits.